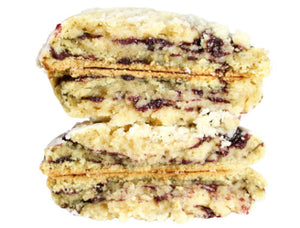 Blackberry Lemon Crumble
Chef Whitney was inspired by her love of all things blackberries for this cookie. She grew up picking juicy blackberries from her backyard and making Summertime treats with them like blackberry cobbler and crumble. 
This cookie is sweet, tart and fruity. It's made with a buttery, vanilla cookie dough that is swirled with Loveless Cafe's scratch made blackberry preserves throughout the cookie. The cookie is topped with a crispy crumble and a sweet and tangy lemon drizzle.
For the ultimate over-the-top experience, we suggest warming the cookie and then topping with ice cream. Enjoy!
---