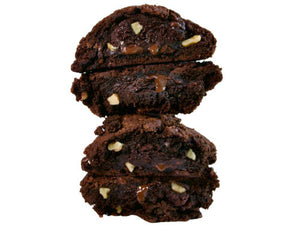 Chocolate Overload Cookie
Chef Whitney was inspired by her love of all things chocolate for this cookie. Buckle your seat belt because there is a lot of chocolate in here. Like A LOT!
Rich cocoa cookie dough, semi sweet chocolate chips, milk chocolate malt balls, crispy brownie brittle and crunchy walnuts. If you thought that was a lot....wait for it. Break it open to find a fudge brownie center. 
The only thing that can make this cookie better is a tall glass of milk to enjoy with it.
---